Business
HVAC Relay Market projected to reach US$ 5.5 Bn by 2026
Global HVAC Relay Market Estimated to Reach Nearly US$ 5.5 Bn by 2026. Global HVAC Relay Market was valued at around US$ 3 Bn in 2017 and is anticipated to expand at a CAGR of more than 7% from 2018 to 2026
HVAC Relay Market – Snapshot
Relays are a type of switches, which can open and close a circuit either electromechanically or electronically. They are able to manipulate one electrical circuit by closing and opening contacts in another electrical circuit. HVAC relays are primarily used in HVAC control systems to regulate and control the operation of heating and air conditioning systems. In general, relays are primarily utilized to control and operate a high powered circuit with the help of a low power signal. Thus, relays can control large voltages and amperes of current by applying a small voltage to a relay coil present in the relay system. When voltage is applied to the relay coil, it actuates or stops a relay based upon the contact arrangement, which then either opens or closes a large electrical circuit. HVAC relays are used to control heating, ventilation, and air conditioning equipment such as compressor, condenser fan motor, or blower motor and turn them on or off during the operation as required.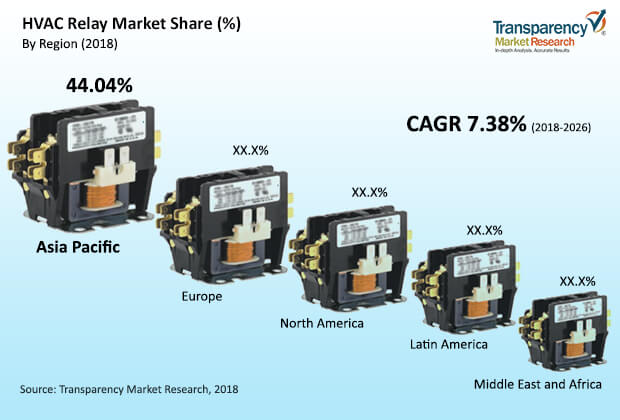 Download PDF Brochure – https://www.transparencymarketresearch.com/sample/sample.php?flag=B&rep_id=44309
Increase in Demand for Heating, Ventilation, and Air Conditioning Systems Likely to Drive Market
HVAC systems were introduced in the automotive sector in the early 1960s. Increase in demand for automobiles across the globe is expected to boost the demand for HVAC relays in the automotive segment. Rise in demand for passenger vehicles is a major factor driving the market. Currently, almost all passenger vehicles are equipped with HVAC systems. Thus demand for HVAC relays in the automotive industry is expected to increase in the near future. Rise in demand from commercial vehicles in light and heavy sections is also a reason behind the growth in demand for these relays in the automotive sector. Moreover, rise in investment in non-residential construction business is estimated to be a key driver of the market. Expansion in the non-residential construction business is likely to boost the demand for indoor air quality management and HVAC systems. This is projected to drive the HVAC relay market. Increase in investment in construction of hospitals, educational institutions, hotels, and other such commercial buildings is anticipated to propel the demand for HVAC relays.
Rise in popularity of green buildings due to the implementation of stringent government regulations and policies is likely to drive to the HVAC relay market. With the development of "smart" HVAC systems the buildings will become more energy efficient and will enable building managers and owners to operate more energy efficiently. Installation of these smart systems is expected to drive the demand for HVAC relays, which play an important role in these systems.
More Trending Reports by Transparency Market Research – https://www.prnewswire.com/news-releases/biogas-market-to-thrive-from-massive-efforts-of-policy-makers-to-adopt-energy-with-low-carbon-footprint-biogas-production-technologies-need-to-keep-pace-tmr-301159502.html
High Initial Investment to Setup HVAC Systems Expected to Restrain Market
Installation of new and advanced HVAC systems in a commercial or industrial building requires high initial cost. These systems not only involve high setup costs but also significant maintenance costs. Establishment of a new system is expensive. Similarly, upgrade of an old HVAC system can also be costly. The lifetime costs of an HVAC system include monthly operating expenses; preventive maintenance; and repair and replacement costs of small system components, air filters, and refrigerants. These factors are anticipated to hamper the HVAC relay market in the near future.
Environment-friendly Materials & IOT Offers Lucrative Opportunity for HVAC Relays
The shift in trend of manufacturing HVAC relays from environment-friendly materials can provide new opportunities to the HVAC relay market. Usage of these relays would make a building more energy efficient and the system more environment-friendly. Manufacturers are now shifting toward materials that are free of lead and cadmium, as lead and cadmium are hazardous for the environment and human health. Internet of Things (IOT) is expected to enable HVAC systems to become smarter. It can also enable these systems to operate based on real-time data available on usage. Furthermore, IOT is anticipated to enable quick detection of failure, allowing for remote diagnosis of these systems. This is likely to lower the load on HVAC relays, thus making HVAC systems more energy efficient.
Request for Custom Research at – https://www.transparencymarketresearch.com/sample/sample.php?flag=CR&rep_id=44309
Asia Pacific Held Major Share of Global HVAC Relay Market in 2017
Based on region, the HVAC relay market can be divided into North America, Latin America, Europe, Asia Pacific, and Middle East & Africa. Asia Pacific dominated the global HVAC relay market in 2017. This can be primarily ascribed to the rise in demand for HVAC relays and HVAC systems in end-use applications, especially in developing countries in the region. The market in the region is anticipated to expand at a significant pace during the forecast period, primarily owing to the rise in demand for HVAC systems and relays in the region due to the increase in demand for automobiles and growth in investments in the construction sector in the region.
Request for covid19 Impact Analysis – https://www.transparencymarketresearch.com/sample/sample.php?flag=covid19&rep_id=44309
Highly Competitive Global HVAC Relay Market
Key players operating in the global HVAC relay market are TE Connectivity Limited, Control & Switchgear Electric Limited, Eaton Corporation, Siemens AG, General Electric, ABB Ltd., Littlefuse Inc., Hitachi Ltd., Mitsubishi Electric Corporation, Rockwell Automation, Inc., Toshiba Corporation, and Schneider Electric.